And of course, there are those who passed before them...
Our Dogs at Rainbow Heaven

Alex - Anna - Howard - Sassy&nbsp -&nbsp&nbspHeiki - Abby
Alexis Of Aggie Land
April 8, 1986 - January 7, 2000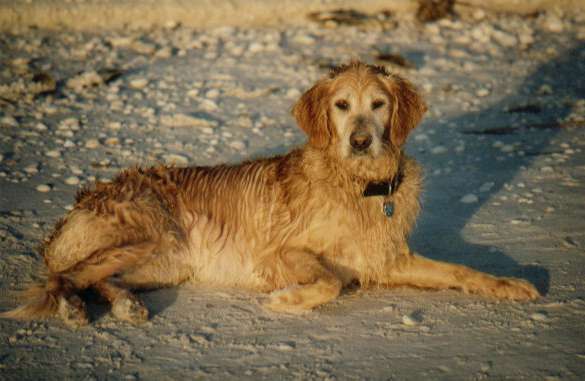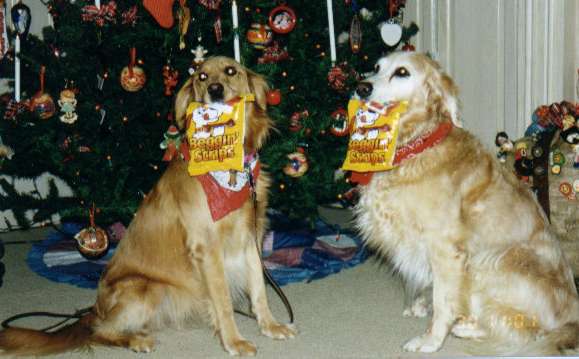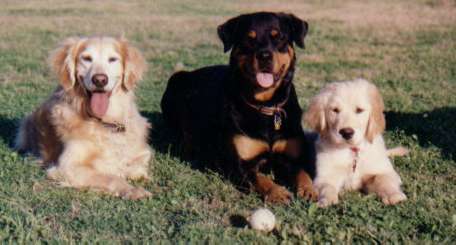 Alex at Sanibel Island - Lucy and Alex at xMas - Alex, Anna and Miles To Go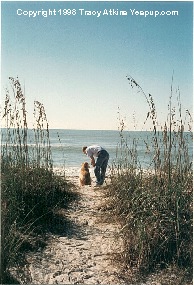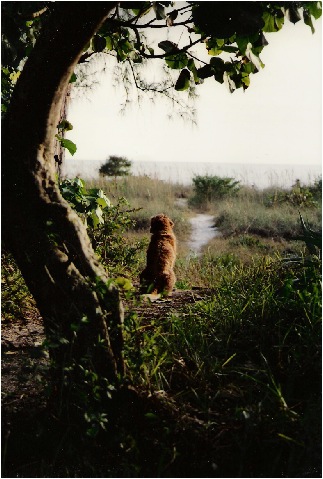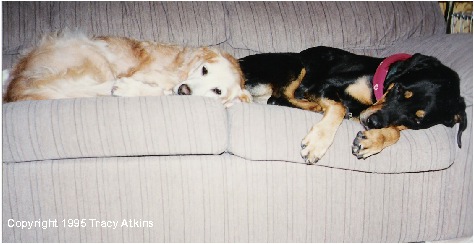 Anna and Dad at the beach - Alex and Anna sleeping on the sofa


Heidi's Little Anna
1988 - September 22, 2000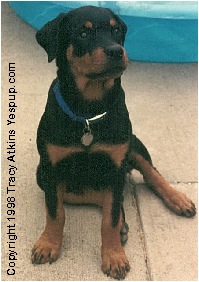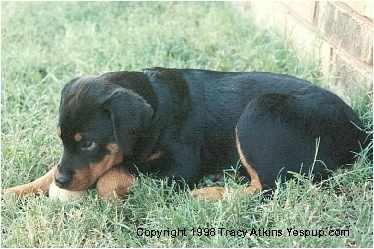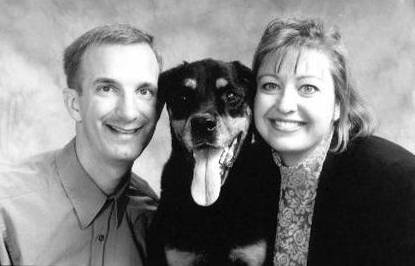 Anna 3 Months - Anna 4 Months - Anna 12 Years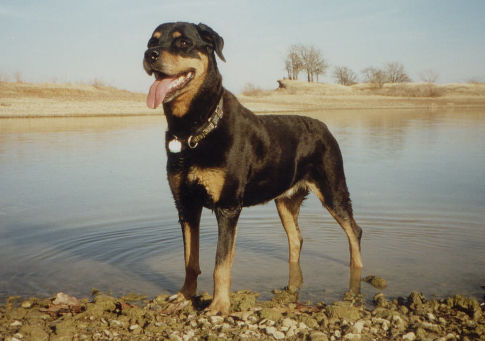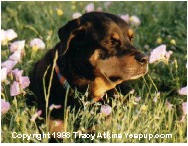 Rare moment in water - Our last family trip - Resting in flowers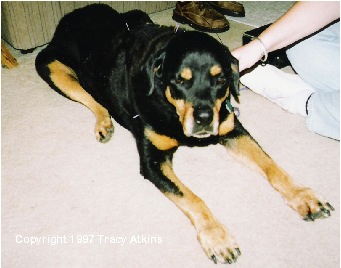 Anna at age 11 receiving acupuncture to relieve her joint pain.


Tracy's Howard Huge
1991 - August 3, 2001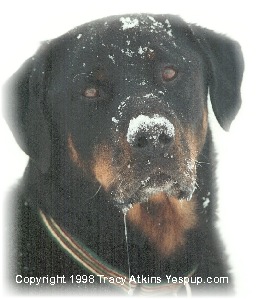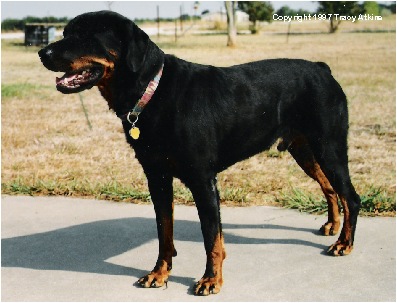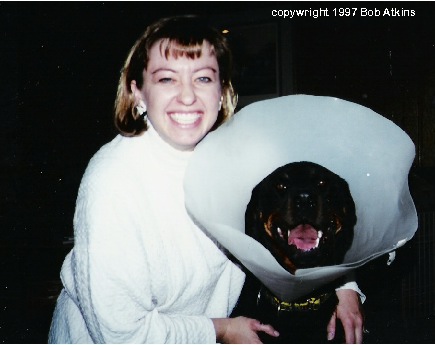 Howard in the snow - Howard on Guard - Howard as a cone head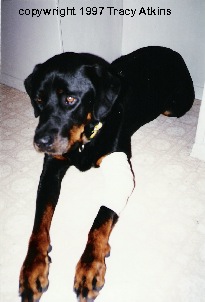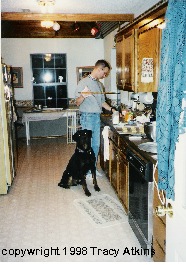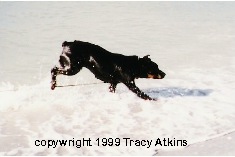 Howard's Elbow surgery - Howie helps in the kitchen - Howard in the surf
SASSY
1993 - July 13, 2007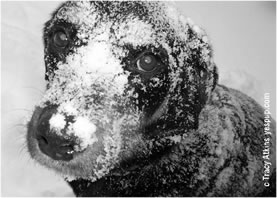 Sassy was a fourteen year old, spayed, female Rottweiler mix. Sassy stated her relationship with Tracy when she was only one. Tracy fostered her for the Dallas Fort Worth Rottweiler Club's rescue program. After a few months stay with Tracy, Sassy was placed in a home with a mother, her two children and cats. Sassy flourished there for over a year until she was returned to Tracy because the adoptors new fiance' didn't want Sassy. Month's again passed as Sassy stayed with Tracy. Placed with a single woman who lived on a horse farm, Sassy flourished again for four years. When that adoptor moved to the city and left sweet Sassy to live outside full time, she fell in violation of her adoption contract. The third time she returned to Tracy was the last time Sassy would ever be without a perminant home. She then became a "forever dog" to the Atkins family.
Sassy earned her CGC, Canine Good Citizen Test. She assisted with puppy training and crate training for dogs with separation anxiety. Her temperament and attitude were so stable, she worked with Tracy as a "bait dog" testing dogs for aggression.
Of all Sassy's accomplishments and titles, her greatest job is to be the protector and best friend to Tracy's son, Thomas. She will be greatly missed.

Sassy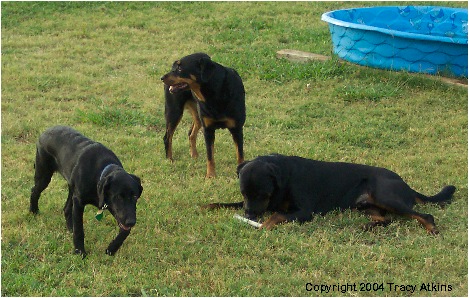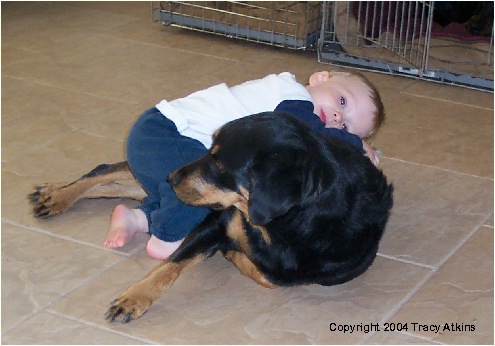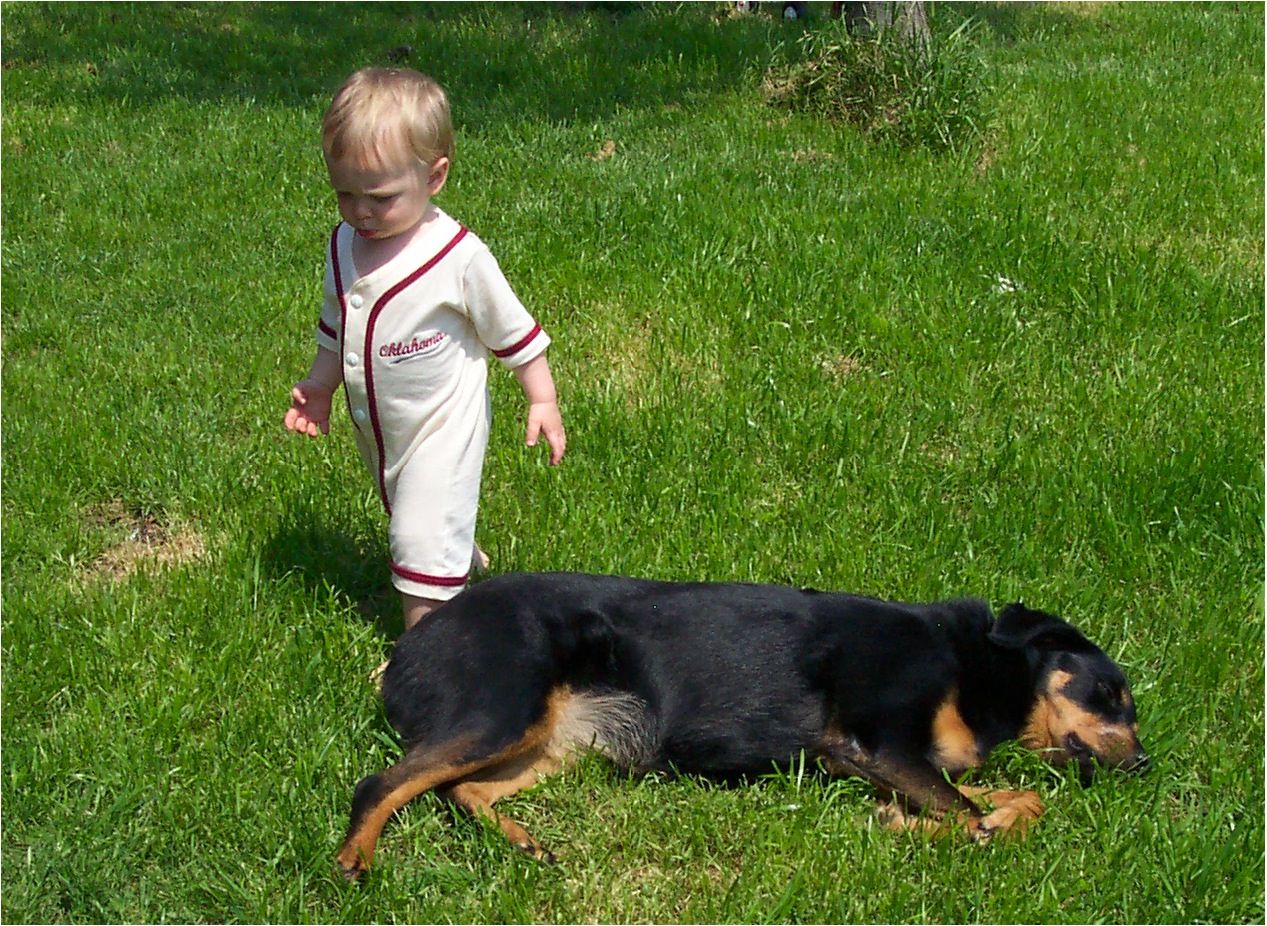 Mocha, Sassy, Eagle - Tom cuddles Sassy - Tom yeilding to resting Sassy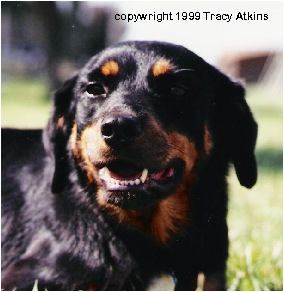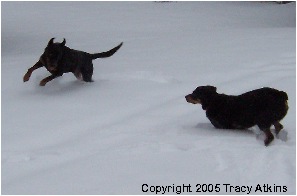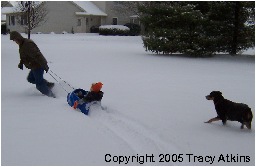 Sweet Sassy - Sassy chasing Eagle - Sassy chasing her boy
More photo's of Heiki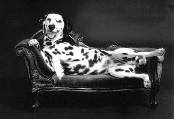 Heiki was a ten year old, spayed, female Dalmatian. She had been with Tracy since she was two weeks old. Heiki's mother and seven siblings were abandoned. At two weeks old they were released to Dalmatian Rescue of North Texas. Tracy fostered the mother and litter until the puppies were placed. It took over a year for all the pups to be permanently placed. Heiki, of course, nearly immediately wiggled her way onto the lap of Tracy and her husband, Bob.
Heiki was a sweet, smart, agile and obedient dog. Shecould can respond to over 50 words and hand signals.
Heiki passed her TDI therapy dog certification and the CGC (three times!). She had been agility trained and she assisted Tracy in Basic Obedience classes for many years.

Heiki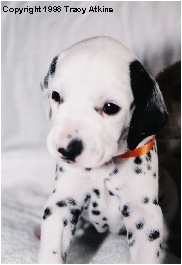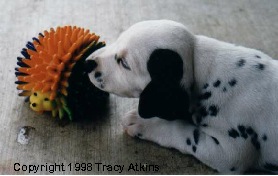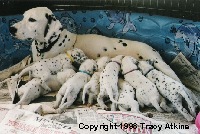 Heiki at four weeks old - Heiki six weeks old - Heiki w/littermates & mom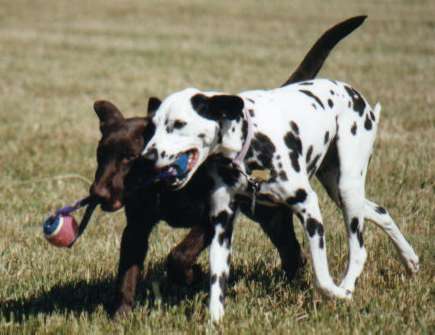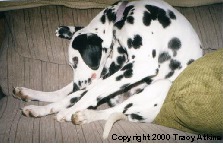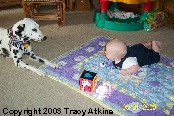 Heiki & Harley share ball - Heiki, relaxing - Heiki "off blankie"
Abby was adopted from the Golden Retriever Rescue of Houston (GRRH) n May 2008, at age 11, from Golden Retriever Rescue of Houston. She was raised as an outdoor dog, but quickly found her way into our home. She had ton's of heart, and was greatly loved by the Atkins family.
Abby passed to the rainbow bridge after suffering a stroke in the summer of 2009.
Eagle was born on September 11, 2001, Eagle, his eight siblings and mother were under the ownership of Southern States Rottweiler Rescue. Fostered by the Atkins family, each pup was given a patriotic name in thanksgiving for Search and Rescue Dogs who served at the Twin Towers.

At two weeks old, they came to live with Tracy until other foster parents, and permanent owners could be located. Of the seven boys in the litter, Eagle was a middle-of-the-pack puppy. His natural, even-tempered, go-with-the-flow attitude has helped him quickly become a favorite of Bob and Tracy.
Eagle has dabbled in agility, obedience and successfully passed the AKC's Canine Good Citizen exam many times. He assisted in group training classes and Private Training Sessions for ten years. Tracy often refered to Eagle as a Rott-Tail-Weiler because his tail had not been docked (cut).
To Alex, Anna, Howard, Sassy, Heiki, Abby and Eagle
My colleagues,
My friends,
My children.
But for without you,
I should never have known
the acceptance of unconditional love.
But for without you,
I should never have known
the joy of the precious present.
But for without you,
I should never have known my calling
to prevent a life any less than you had.
But for without you,
I should never have known
the grace of growing old.
I was lost, but now I'm found.
Was blind, but now I see.
Thank you.
Love,
Mom